This week, we announce the first two investments of Integra Partners Fund II: a $5 million Series A in healthtech Naluri as well as a $5.6 million pre-A investment in Wagely, the leading Indonesian financial wellness platform that enables earned wage access. Integra Partners led both investments. 
Both Naluri and Wagely operate in the employee well-being space, and this is not a coincidence.
South and Southeast Asian economies are developing at a rapid pace, powered by millions of Small- and Medium-sized Businesses. The ultimate asset of each of these Small- and Medium-sized Businesses is the health and well-being of its employees. 
Technology can play a powerful role in empowering employers to offer better benefits to their employees, in turn improving their well-being, which leads to a more productive workforce, which increases growth, leading to more budget to further invest in employee well-being, completing a virtuous cycle of improvement. The key is to demonstrate to employers that the returns on investment of good employee benefit programs are much higher than the capital required to fund these programs.
Whilst it is early days in the region, the impressive growth of both Naluri and Wagely is testament that employers understand this, fuelling an era of growth for employee benefits in the region. 
Wagely and Naluri have a different starting point to address employee well-being. Whilst Wagely starts with financial health, Naluri focuses on physical and mental health.
Naluri
Two out of 3 adults in Southeast Asia are at risk of chronic diseases like diabetes and hypertension. Healthcare costs are on the rise across the board, largely driven by chronic disease sufferers, and this creates an ever-growing burden for employers. Naluri works with employers to deliver a behavioral health platform that offers human-led, AI-augmented digital health coaching to employees at risk of or suffering from chronic disease or mental health conditions. Because managing chronic diseases starts with helping users make lasting behavioral and lifestyle changes, Naluri works on the premise that physical and mental health have to be addressed as a whole. Naluri users have access to a multidisciplinary care team that includes psychologists, nutritionists, doctors, pharmacists, fitness coaches – and even career coaches and financial planners to help users deal with workplace or financial stresses that may trigger unhealthy behaviors. Equally importantly, it helps companies measure the ROI of these programs, making tangible the benefits that companies reap from investing in their employees' health and wellness. 
Wagely
Wagely brings financial wellness to middle- and lower-income employees in Indonesia. Over 100 million employees in Indonesia live paycheck to paycheck, often critical to supporting their families and wider communities. Unforeseen expenses like a doctor's visit, education expenses, or a broken motorcycle can lead to financial stress, a vicious debt cycle, employee fraud, and ultimately employee turnover. By empowering employees to draw their earned wages in real-time, 24 hours a day, 7 days a week, Wagely not only helps employees avoid predatory lenders, but also helps employers offer a critical improvement in its employee benefits. Wagely uses this initial product to drive a larger employee well-being program. As part of its offering, Wagely offers financial education and a focus on healthy savings habits, to encourage employees to start accumulating small savings. Micro-insurance and health benefits are logical future areas of growth. Wagely was founded in 2020 by former Grab and Tokopedia executives, Tobias Fischer (CEO) and Sasanadi Ruka (CTO). More than 50 large Indonesian enterprises are already using Wagely and the company is on track to reach 250,000 users this year in Indonesia alone.
The future of employee well-being in Southeast Asia
Naluri and Wagely are pioneers in using technology to drive employee benefits in Southeast Asia. At Integra Partners we have a firm belief in a holistic approach to overall well-being, and we are glad to have found two strong teams that approach this space from a financial services as well as from a health perspective. It is our hope and expectation that it will prove to be the intersection of these spaces that holds the ultimate key to success. Both Naluri and Wagely drive both access and affordability of responsible financial services and digital health to the largest community in the region: employees.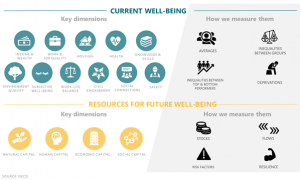 Beyond financial, physical and mental health, there may be additional areas of interest that are worth exploring in the future. As summarized by OECD in its well-being research, other areas of interest include overall job quality, a person's housing situation, education, the quality of the environment, subjective well-being, safety, work-life balance, social connections, and civic engagement. While governments and local communities play a role here, the obvious entry point for us is through employers, and we look forward to partnering with Naluri and Wagely on their mission to bring well-being to employees all across Southeast Asia.  
Written by Christiaan Kaptein, Partner at Integra Partners.