Why We Invested: Graas.ai
Earlier this year, we identified two global megatrends for 2023:
fintech getting horizontal, cutting across every industry,
the arms race of generative AI technologies and its applications (read more here).
The largest investment within our fund to date, Graas.ai, sits at the intersection of both of these megatrends, and the largest segment of the digital economy in Southeast Asia (SEA) and India — e-commerce¹.
And what do e-commerce merchants obsess about? (1) Top-line growth, and (2) profitability. Right now, being a small online merchant in Southeast Asia's cutthroat ecommerce landscape is a little like being a day trader competing against high frequency hedge funds — there are small pockets of opportunity for profit, sure, but the merchants who have the resources to algorithmically manage ad spend, pricing, inventory allocation and all the other aspects of being an ecommerce business are going to eat your lunch. So what Graas offers is a plug-and-play AI engine that delivers real-time, actionable recommendations across all the aspects of an e-commerce business. Traditionally, this would take an entire data science team, expensive computational resources and days for actionable insights to be generated. But Graas now offers an AI co-pilot for e-commerce to brands of all sizes.
"Graas sits at the intersection of the AI and embedded fintech megatrends, and a massive $200b+ e-commerce market"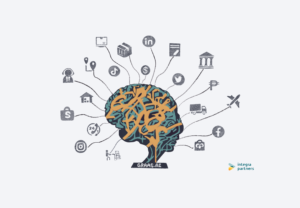 Catching up (technologically) with the e-commerce boom
It has been boom times for e-commerce in both Southeast Asia and India over the past decade. Indian e-commerce has grown 10x², while e-commerce in SEA has grown 20x³ over the same period. Projections indicate that the industry is poised to nearly double from here, reaching a Gross Merchandise Value (GMV) of around $400 billion by 2025⁴. Main drivers include evolving consumer behaviour, the emergence of e-commerce marketplaces in the region (which collectively raised over $26 billion⁵ in funding), and the widespread adoption of digitalization and e-commerce strategies by consumer brands.
Like all previous gold rushes, the e-commerce boom has come with the need for picks and shovels — a multitude of infrastructure and ecosystem tools to solve all the aspects of running an e-commerce business. Consequently, e-commerce data has splintered across various data silos — marketplaces, direct-to-consumer websites, warehouse management systems, 3PL platforms, Google Analytics, Meta Business Suite, CRM tools, financing platforms, internal pricing and forecasting softwares, and competitors' pricing and promotion databases, just to name a few. This fragmentation has led to challenges in accessing comprehensive and reliable data. And without comprehensive and reliable data, making business decisions are just a step up from random stabs in the dark.
So a big part of Graas's value proposition is integrating these diverse data sources into a unified platform, and qualifying, validating, and cleansing the data. What brands get is a trusted single source of truth upon which they can confidently base their business operations. The key point to remember is that integrating each new data source results not in a linear improvement in decision-making, but in exponential gains. Ad spend influences pricing decisions, as does competitor behaviour. Merchandising and pricing decisions influence inventory and fulfilment decisions. This all adds up to enable brands to effectively run their businesses and make informed decisions based on accurate and reliable insights.
Data — the real arms race
"the availability, quality, and proprietary nature of data… will be where the true arms race resides"
While much focus this year has been on the arms race between the various generative AI giants, an increasing number of open-source models have also become accessible. We believe the key factors determining success for AI-driven players will be the availability, quality, and proprietary nature of data, and perhaps acquisition of such data will be where the true arms race will be fought.
Graas has strategically positioned itself by leveraging a vast repository of e-commerce data spanning over a decade, encompassing both public and proprietary sources, meticulously collected, reconciled, and cleansed by Graas. Today, the company processes over 10 terabytes of data, across hundreds of brands, millions of SKUs, and hundreds of millions dollars in GMV, a number which continues to grow each month. Even in the PGA era (aka the pre-generative AI era, but also a nod to golf fiend Graas CEO Prem Bhatia), these efforts have enabled the company to build a robust predictive AI model capable of delivering real-time recommendations to brands. Some examples of recommendations:
Reallocating inventory between cities to take advantage of predicted spikes demand
Readjusting pricing for various SKUs in response to competitors' promotional campaigns or discounts
Proposed bidding on selected ad-words to capture incremental sales
Halting ad spend on platforms where projected ROAS⁶ is likely to decline
Deprioritizing marketing efforts in certain cities where freight rates are projected to increase or shipping delays are expected
What are the best restaurants in Jakarta?
Remember what keyword-based search was like? Prior to 2013, Google couldn't understand a question — when searching for "What are the best restaurants in Jakarta?" would have returned lists of all the restaurants across the world and maybe lists of all restaurants in Jakarta. Today Google returns the results of top rated restaurants in Jakarta. Google understands that you don't care about restaurants in any other cities, or all the restaurants in Jakarta — you care about the best restaurants in the city of Jakarta. You get to ask Google a question in your own language, rather than having to translate your question into terms (keywords) that Google understands. 
With generative AI, that capability is extended to the ways in which users interact with platforms and consume insights. The experience becomes more conversational, more intelligent, and more contextual. This is especially important for small merchants or for business teams, who don't have the time or the capacity to drill ever-deeper into the data that the Graas platform surfaces. In the near future, Grass expects the platform to answer questions such as:
Why did a particular product outperform last week?
How do I tweak my campaign strategy to target a younger audience?
Will my sales over the next week increase if I drop the price of this particular product?
How was sales relative to my competitors in any given period?
Why did returns or cancellations spike over a period of time?
What would be my ROI if I reallocated advertising from platform A to platform B?
What should I do now to increase my sales in my bottom performing regions?
Ultimately, generative AI will allow Graas to grow into an essential co-pilot for brands and Chief Marketing Officers, providing the necessary insights and recommendations on a daily basis for them to either execute directly via the platform or dive further into. Earlier this year, Graas became one of the first startups in the region to get its certifications via SOC-2 and ISO 27001, and is currently in the process of getting its GDPR certification. In the first year of its operations, Graas was also named to the CB Insights Global "Retail Tech — Top 100 List" from a list of 7,000 early stage companies that were surveyed across continents.
Levelling the playing field
The typical small brand owner spends at least 90–120 minutes of their day going through the following routine:
Checking sales and orders: Look for new orders and make sure that all existing orders have been processed and shipped.
Managing inventory: Check their inventory levels, reorder products, update stock levels, and make sure that all listings are up-to-date.
Handling customer inquiries: Respond to customer inquiries and concerns, both through their website and on the various marketplaces where they are selling. Provide support, answer questions, and resolve issues related to orders, shipments, and products.
Optimising listings: Optimise product listings, including titles, descriptions, and images. They conduct keyword research, competitor research, update product images, and adjust pricing.
Marketing and advertising: Run paid ads, email campaigns to their customer base, issuing coupons and promotions across various marketplaces.
Fulfilment and shipping: Coordinate with shipping carriers, warehouses providers and last mile delivery providers.
Analysing sales and performance: Analyse performance metrics such as conversion rates, compiling ROAS across traffic sources, and customer behaviour to identify areas for improvement and growth.
Large brands have teams across the e-commerce, marketing and fulfilment functions to manage these activities. But smaller brands often find themselves allocating an inordinate amount of time to these operations, which are vital for sustaining their e-commerce business yet do not directly contribute to sales and margin growth. Graas addresses this disparity by automating these functions, thus enabling smaller brands to redirect their efforts towards higher-impact activities like product development and partnerships.
Nevertheless, the real leveller lies in the AI engine and insights that small brands now have access to — a privilege once exclusively enjoyed by larger brands with well-established AI and data science teams.
Embedded underwriting of the future
Smaller brands frequently encounter the obstacle of limited capital, which poses a significant barrier to executing data-driven strategies. While AI recommendations can provide valuable insights, the inability to secure sufficient working capital or growth capital often hinders their implementation.
In some cases, e-commerce brands turn to revenue-based financing models, where lenders assess a brand's creditworthiness based on limited historical transaction data and ROAS figures. But these data sources are often isolated, incomplete, and potentially contradictory. Moreover, lenders do not control how the growth capital is used and so do not get to influence the effectiveness of the resulting growth campaigns, leading to higher credit risk.
In contrast, Graas stands out by offering both the capability and data required to finance small brands. Leveraging its AI platform, Graas pioneered a novel form of credit underwriting, centred around the specific utilisation of funds. Rather than relying solely on historical data, Graas's engine accurately quantifies the monetary value of each recommendation, enabling them to finance these recommendations on behalf of brands or underwrite them for third-party lenders. By precisely estimating the incremental dollar value that brands can generate for every dollar lent to them, Graas is better equipped to assess and price the associated credit risk.
The introduction of this embedded financing model has been a game changer for smaller brands on Graas' platform, empowering them to compete on a more level playing field with their larger counterparts.
An exciting future awaits
We are excited to partner with Prem and Ashwin and the entire Graas team to drive a revolution in the largest sector of our digital economy. We foresee a category leader being born in the region, combining both decade-long expertise from the team of industry luminaries with a decade of e-commerce data, riding on both technological innovation in AI and business model innovation in embedded fintech.
Additionally, Graas empowers brands with a comprehensive understanding of their business, competitive environment and customer base. The same trove of data also allows Graas to monetise through lending, credit assessment, performance marketing, and provision of industry insights.
Endnotes:
¹ 2022 GMV of $214b
² Economic Times, 2013; Business Standard, 2023
³ E-conomy SEA 2022 report, Google, Temasek, Bain; Readiness of the ASEAN Community for the 4th Industrial Revolution 2021, Asian Social Science
⁴ Kantar, 2023; E-conomy SEA 2022 report, Google, Temasek, Bain
⁵ Aggregate of the 15 most funded e-commerce marketplaces from SEA and India, from Crunchbase
⁶ Return on advertising spend
Written by Joshia Kwa, Principal at Integra Partners. Illustrated by Jing Cui, Intern at Integra Partners.
Why We Invested:
This is part eight of our "Why We Invested" series, where we share our thought process in the investments we have made from Integra Partners Fund II, the problems they are addressing, and what they are doing about it. You can find the rest of the series here.