"Multiples are coming down, it's a great time to invest", but is it really? Times have changed in ways that both investors and founders have to contend with: capital has become more expensive and as such, the bar for return on investments have also become higher. Like everyone else, we can't wait for the good times to return. But we also find ourselves wondering, will they ever (or at least in the foreseeable future)? 
Investors and founders find themselves on two sides of the same coin. VCs, which invest over a 10-year horizon, need to deploy into companies that can exit with a return that sufficiently compensates investors for the risk they undertake. In other words, if the risk free rate is 5% per annum, investments have to return 2-3x of that (i.e. 10-15% p.a.). Part of the equation is investing in companies that are leaner, more efficient, and ultimately able to execute (e.g., deliver on their target metrics and key milestones even during a fundraising drought) – so that regardless of what the market looks like in 10 years, there are willing buyers at a price that can justify a reasonable risk-adjusted return profile. 
At the same time, founders have to think about how to build these "lean and efficient" companies. Going back to first principles, we characterize these companies by what we call the Fundamental Fit Framework, which measures how efficiently and sustainably value is generated across the initial stages of a start-up's lifecycle. 

Note that capital required varies by industry and sub-sector; the example above assumes an asset-light tech-enabled company – and does not apply to companies in deep tech, life sciences, or verticals where monetization is linked to core IP. 
Product-Market Fit (From 1 to 10): From something to more 
At this juncture, founders have to balance growing an initial customer base and hiring key employees across various functions within the company beyond the core team before scaling further. Hiring well is especially critical, as each incremental employee has the potential to disproportionately impact the outcome of the company and its ability to progress to the next stage of growth. 
Sales-Market Fit (From 10 to 100): More to even more 
With some Product-market fit, the company's sales function starts to scale. As such, customer acquisition costs (marketing, sales, commissions) rise and becomes a main cost driver. At this stage, Sales-market fit becomes especially important. Sales-market fit is how efficiently an organization, you guessed it, sells – and how much its sales motion and strategy aligns with how its target customers purchase. Each type of market-fit builds on the next.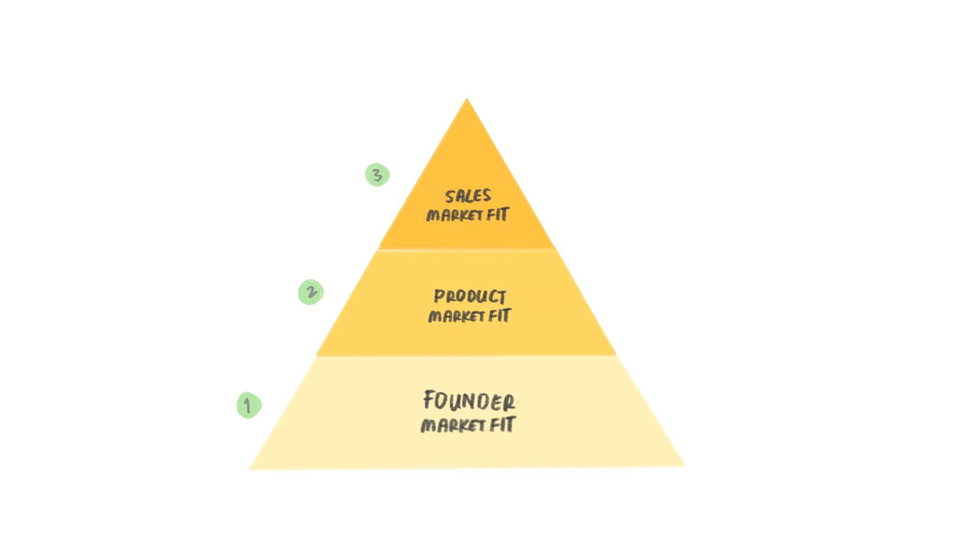 Most of us are probably familiar with BVP's cash conversion score, which is: (Annualized Recurring Revenues)/(Total Capital raised to date minus Cash). In the Southeast Asian context, however, SaaS companies are less common given an emerging market and lower willingness to pay for such products. Here, we look at companies with products or services that mimic recurring revenues (e.g., repeat transactions). 
Putting it all together, one way to use the Fundamental Fit Framework to collectively measure Founder, Product, and Sales-market fit is to calculate Collective Capital Efficiency:  (Annualized revenues)/(Cumulative gross burn since inception)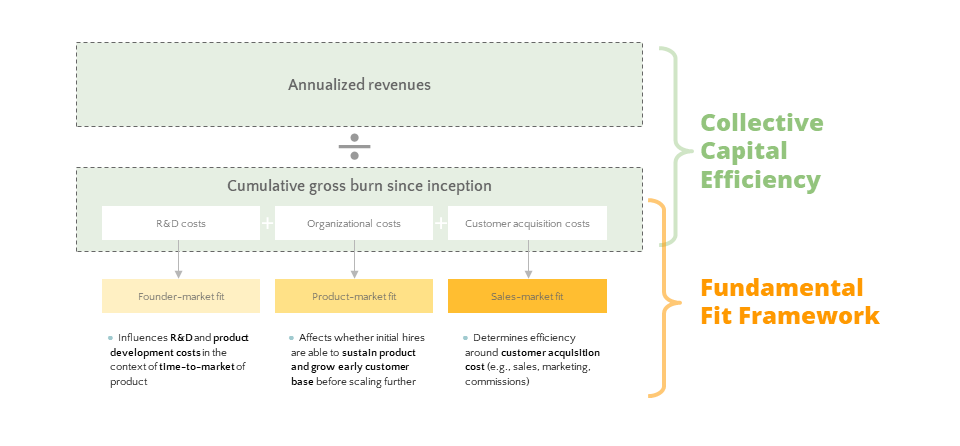 The more revenue generated per dollar spent, the more efficient the company – which is why being capital efficient even when going from 0 to 1 is important. In addition to customer acquisition costs, salaries also form a bulk of the bottom line – which we include because it demonstrates whether the entire organization (from sales, to R&D, engineering) collaborates effectively to build and sell a product that customers want. Another sign of Sales-market fit are shorter and less founder-involved sales cycles.

Multi-Market Fit (From 100 to 1,000+): From Even More to Beyond
In addition to the Founder-market fit, Product-market fit, and Sales-market fit as we mentioned above, another layer of consideration is Multi-market fit – the ability to localize in multiple markets. This is especially peculiar to the Southeast Asian context where Founder, Product, and Sales-motion need to be replicated and adapted to each new market across Southeast Asia, with every market having its distinct socio-economic, regulatory, and cultural characteristics. 
To replicate the business across various geographies, founders are essentially duplicating a team in each market, while being held to the same metrics above. It goes without saying that hiring right and building a dependable bench is critical. To visualize this, we evolve the pyramid above into a 3D cone, where the core expands outwards with each new geography / market.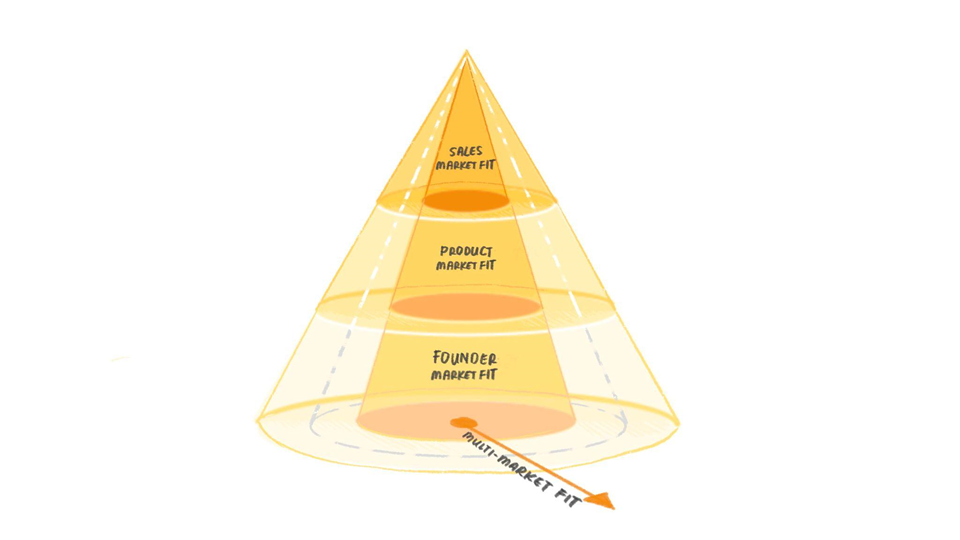 The effect of a good Fundamental Fit is a flywheel of sustainable growth that continues to gain momentum. The company continues to demonstrate an ability to hit metrics cost effectively, which attracts external capital to fund their continued growth and expansion until they exit.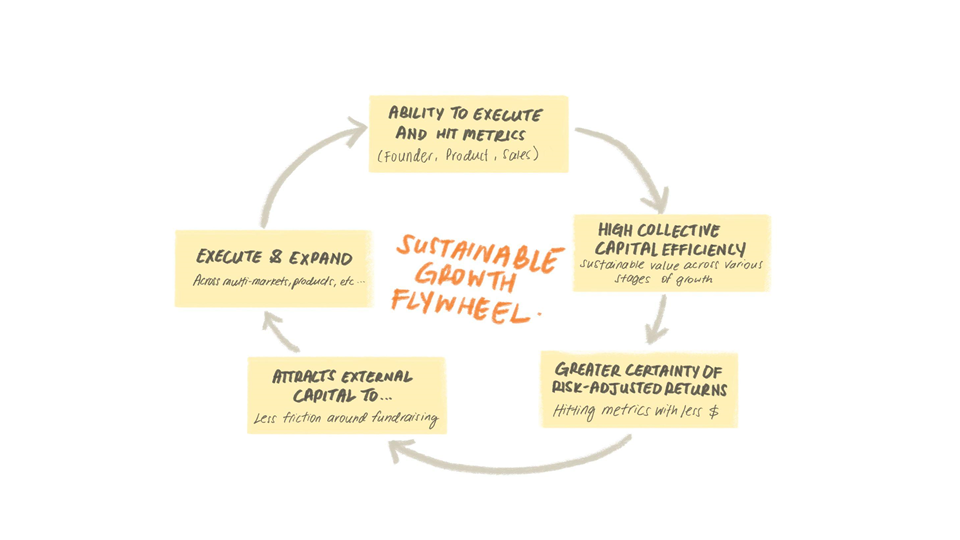 Sustainability, and supporting founders to build businesses that can weather market storms is at the core of our mission at Integra Partners. Backing companies that drive financial and healthcare access, affordability and inclusion is the first part of the puzzle. The second part? Ensuring that these companies are viable long-term to create impact that lasts. 
If you are a founder and this resonates with you, please reach out! We would love to have a chat. 
Written and illustrated by Theodore Ng, Associate at Integra Partners.